Thursday 12 December 2019
Thursday 12 December 2019
Start shoot of Alex van Warmerdam's tenth film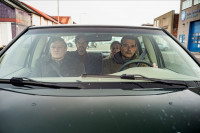 The principal photography of NO. 10, the new film from acclaimed director Alex van Warmerdam, has begun, for which Nine Film will handle international sales. The film tells the story of an actor who cannot recall his past and is strong-armed into his future by a group of strangers. NO. 10 is shooting in Amsterdam before moving on to Belgium.
Synopsis
When director Karl discovers Günter's secret affair with his wife Isabel he squares him off against fellow actor Julius and gradually diminishes Günter's role in the play. On the night of the premiere, during the opening scene, Günter ruthlessly takes his revenge on Julius. Kicked off the play, out of his home and dumped by Isabel, all roads lead Günter to Germany, where the truth of his mysterious past will be exposed.

Alex van Warmerdam (67) on the tone of his latest project: "NO. 10 somewhat departs from naturalism. It is a little hard for me to find words for this. What I'm looking for with the actors is not to recreate a slice of life. Nothing too loose either but rather something elevated; without exaggeration or anything too theatrical. I'm interested in exploring a more delicate terrain and it always takes me some time to find it."

Alex van Warmerdam is one of the most prolific Dutch writer-directors. His first film ABEL (1986) premiered in Venice, where it won the Jury Prize, and then went on to Toronto. In 1992, THE NORTHENERS took amongst others the Young European Film of the Year Award and was followed by THE DRESS (1996) and LITTLE TONY (1998). In 2003, GRIMM was released. 2006 saw the release of WAITER and THE LAST DAYS OF EMMA BLANK in 2009. BORGMAN (2011) played in Official Selection of the Cannes Film Festival and was nominated for the Golden Palm. Most recently, SCHNEIDER VS BAX premiered in Locarno in 2015.

The lead role of Günter will be played by Tom Dewispelaere, the Flemish actor who has become a Van Warmerdam regular and appeared in both BORGMAN and SCHNEIDER VS BAX. Dewispelaere graduated from the prestigious Studio Herman Teirlinck in Antwerp and as a member of the theater company Toneelhuis, he appeared in MEDEA, PEER GYNT or UNCLE VANJA, among many others. He is also the co-founder of the theater group Olympique Dramatique.

Other roles will be played by Pierre Bokma (PATRICK, TONIO), Hans Kesting (CHARACTER, MINOES, CODE BLUE), Anniek Pheifer (MI VIDA, AANMODDERFAKKER, HET LEVEN IS VURRUKKULLUK) and Jan Bijvoet (PEAKY BLINDERS, BORGMAN, EL ABRAZO DE LA SERPIENTE, THE BROKEN CIRCLE BREAKDOWN).

NO. 10 is produced by Graniet Film, the production company headed by Marc van Warmerdam. Active since 1985, the company has produced all of Alex van Warmerdam's films. Graniet works also with emerging talent and co-produced the likes of Koen Mortier's ANGEL and further co-producing credits include internally renowned films like DONBASS or KROTKAYA by Sergei Loznitsa.

Pim Hermeling (CEO) and Nelleke Driessen (Head of Sales) of Nine Film: "Alex van Warmerdam is one of the most original filmmakers to come out of the Netherlands. As a young company, Nine Film is particularly excited to work with such an established talent and we cannot wait to share his tenth film with the international marketplace."

NO. 10  is a Dutch-Belgian co-production. Eurydice Gysel co-produces for Belgian based Czar Film and recent company credits include COUREUR by Kenneth Mercken, UN ANGE by Koen Mortier, BORGMAN and SCHNEIDER VS BAX by Alex van Warmerdam and both 22 MAY and EX-DRUMMER by Koen Mortier. Dutch Public Broadcaster BNNVARA co-produces as well. Renowned distributor Cinéart will handle the release of NO.10 in the Benelux.

NO. 10 was first presented to the industry during the 2017 Cinemart at the International Film Festival Rotterdam. The film is supported by The Netherlands Film Fund, the CoBO Fund and The Netherlands Film Production Incentive and VAF, the Flemish Film Fund.