Thursday 12 December 2019
Tuesday 12 February 2019
Nine Film acquires culinary documentary KAMPAI! SAKE SISTERS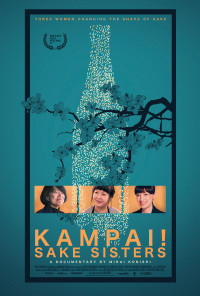 Amsterdam-based sales company Nine Film has added KAMPAI! SAKE SISTERS to its slate. Following the success of his documentary feature, KAMPAI! FOR THE LOVE OF SAKE, a Japanese journalist-turned-filmmaker Mirai Konishi steps behind the camera again to continue exploring the fascinating world of sake, this time focusing on WOMEN in the sake world.
KAMPAI! FOR THE LOVE OF SAKE premiered at the 2015 San Sebastian International Film Festival, then went on to the Tokyo International Film Festival and Hawaii International Film Festival, among others. It enjoyed its nationwide theatrical release in Japan, and also had a limited theatrical run around the world including in North America by IFC Films/Sundance Selects.
KAMPAI! SAKE SISTERS is an intimate look into the lives of three passionate women who are shaking up and thriving in the once male-dominated world of sake. Together, their stories offer captivating insight into how women in Japan are transforming ancient traditions and contribute to shaping a new era of sake.